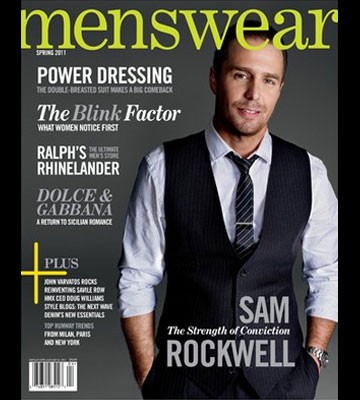 MENSWEAR
The Ultimate Blazer: The classic navy blazer works anywhere. But is yours as personal as it could be?
Spring 2005
If you're looking for the ultimate blazer, you're looking for a custom tailor. David Lance Schwartz, of David Lance New York, on New York's Upper East Side, provides just the thing to Wall Street executives and sports celebrities. Getting a true navy blazer custom-made — and not a murky midnight-blue one that could be mistaken for black — is the perfect way to express your individuality. Here's Schwartz's checklist of what goes into his sartorial work.
WHAT'S RIGHT: His blazers have English ancestry with a touch of Italian blood, a "clean and defined" look with subtle body shaping and a soft, natural-shoulder line that flows into the sleeve. Strong, extended shoulders? "Never!"
THE BEST STYLE: "A single-breasted, two-button model is a classic that never goes out of style." He advises notched lapels-moderately wide and in balance with the natural shoulders. Side vents, pockets with flaps that tuck in, a breast pocket in a simple welted style and dark-brown horn sleeve buttons that work.
THE CORRECT FABRIC: For the southern climes, Schwartz suggests a nine-ounce lightweight worsted. For the northern tier, a 10 1/2-ounce worsted. A crisp, clear-finish worsted wool serge or fine twill travels best on a jet. "But if you intend to wear the blazer to a leisurely dinner, a luxurious worsted cashmere is the only way to go."
NUMBERS: Schwartz says don't be fooled by the numbers of a fabric's weight . "The weight of the fabric means less than it's finish and how it will drape. A fine nine-ounce cashmere is surprisingly lightweight, but gives the blazer a luxurious drape."
BESPEAKING BESPOKE: "If a client likes to wear his blazer with jeans or khakis, I cut it slightly shorter." With flannels or coverts? A regular suit coat length. One custom touch uses a narrow raised or lapped seam down the sleeves and the back. The eye picks up the difference, as it does with fine pick stitching on the lapels and pocket flaps.
INSIDE STORY: Schwartz's choice of lining color? Dubonnet wine red. He'll do several interior pockets, for a cell phone, a Blackberry or a PDA. He'll cut a passport pocket cut an inch and a half higher and seven inches deep. He adds an eyeglass pocket on the left side, plus a pocket for a pack of cigarettes beneath it.
GETTING FIT: At the initial fitting clients are measured, fabric is chosen and details that personalize the blazer are ironed out. The second is for fine-tuning; the body of the coat, the shoulder line and the sleeves are basted. The third and final fitting is six to eight weeks after the initial visit. But after all, this is the ultimate blazer.
-STAN GELLERS