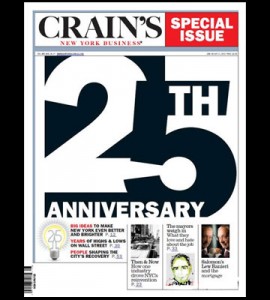 Crain's
Crain's New York Business
June 10-16, 2002
Clothier tailors an ensemble of services
Clothier David Schwartz admits that there are a number of places in Manhattan where businessmen can spend between $2,900 and $15,000 on a great custom suit, as they do at his company, David Lance New York. The success of DLNY, he says, hinges on its wide array of extra services that are all part of the deal. Mr. Schwartz, whose middle name is Lance, provides image consulting, does house calls, organizes closets, sends rejects to charity and even collects receipts for the tax deductions. Customers receive leather-bound dress charts that make dressing a breeze with a system of numbered tags sewn into suits, shirts and accessories. No detail is too small. "I've taught over a thousand men how to knot a tie," Mr. Schwartz says.
From 125 to 150 regular clients spend between $15,000 and $30,000 a year getting suited at DLNY, suggesting annual revenues in excess of $1.8 million – Mr. Schwartz won't specify. A full-time staff of five serves a total clientele of 400 from DLNY's showroom at 42 E. 76th St.
– Lisa Goff