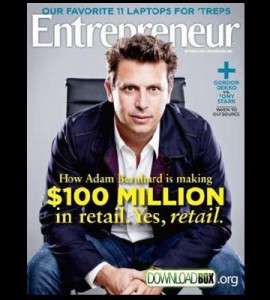 Entrepreneur
"Sharing the Wealth"
Getting Your Shot
May 2003
So how does the average person break into the luxury business? Just ask David Lance Schwartz, 42-year-old founder and CEO of David Lance New York (DLNY), a private-label men's clothier founded in 1995. The 110 customers frequenting Schwartz's New York City store in Wall Street highfliers and CEOs of major corporations who earn more -often much more- than $1 million a year. They buy Schwartz's custom line of business suits, ties and shirts. Each suit ranges from $3,250 to $15,000; shirts cost $275 to $625. "Why do people come here? Because they can." Schwartz says.
His core clientele still spends very strongly despite the downturn, and sales have increased 45since 1999. ""The volume of people we typically would see is down. But the volume of money that's being spent is up," Schwartz says. "Clients come in, and I ask how business is. They say it sucks. That's why I'm here. we've got to keep the economy moving.'"
Business for those catering to wealthy customers is not as off as it is for those in similar businesses who are dealing with the mass market, Schwartz says: "I completely disagree with the theory that this is a bad time to start a luxury company."
It's hard, however, to imagine any entrepreneur going into the luxury market from Day One, he says. You'll need experience to build your confidence because you'll have to be very persuasive to land your first client.
Schwartz remembers persuading a wealthy businessperson to give him a chance when he started his first clothing business in Los Angeles in the mid-1980s. (He sold that company in 1995 to start DLNY.) Once he swayed that first influential client and delivered on his promises, he was on his way with word-of-mouth referrals.
"I would say: 'At some point in your career, someone cut you some slack and gave you a shot. I'm asking for that shot," Schwartz says. "You need a constant sense of being good at what you do. I was one confident little guy."
DLNY has expanded into a complete wardrobe service. Schwartz and his six employees go to a client's home and swap out last season's clothes. They mend the garments and contract with two top New York City dry cleaners to clean and store the wardrobe until next season. The service, which was suggested by a client and initially tested on a few customers, now includes 25 clients. "Take good care of your core people," Schwartz says, "and they'll take care of you."
– Chris Penttila