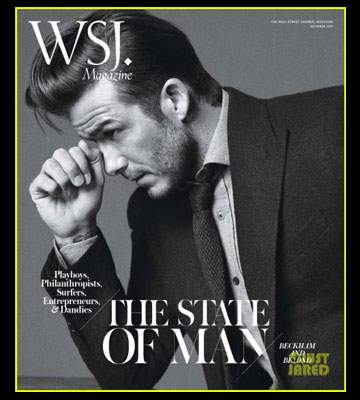 WSJ
Not all that's gold glitters in a $14,000 pinstriped suit
Wednesday, December 15, 1999
AFTER the price of gold fell to a 20-year low this past summer, the precious metal showed up in David Schwartz's pants. Not his pockets: his pinstripes. "This is a fabric that's not only beautiful, but rare," says Schwartz, the 39-year-old owner of a Manhattan custom clothier called David Lance New York Inc.
His aren't the only 22-karat trousers around. A microtrend in men's fashion this fall is to weave something that lasts forever into that which tatters, stains and tears. The result, some say, represents a marriage of fashion and art. "A gem, a Mona Lisa," Brioni USA Chief Executive Joseph Barrato says of his firm's version of the suit, in exactly the same fabric.
But to others, incorporating a bit of gold in a fine wool or silk is a bit like spiking a symphony orchestra program with "Great Balls of Fire."
Not at My Stores
"I think it's ridiculous as a fashion trend," says Kal Ruttenstein, senior vice president for fashion direction at Bloomingdale's. He says the chain isn't carrying any men's or women's clothing with real gold in it.
Gold, adds fashion historian Peter Dervis, "doesn't make a better suit. You don't need to draw attention to good workmanship." On the other hand, gorgeous is gorgeous, and the gold stripe in a Brioni suit is as subtle as can be.
Those making and selling gold-fortified fashion deny any connection between the low price of gold and the current fancy. If anything, the $280-an-ounce price (down from $875 at its peak in 1980 and from its most recent high of $400 in early 1996) would only diminish the cachet of sporting a gilded made-to-measure suit that Brioni retails for $14,000. Custom Brionis start at $3,500 and (even without gold in them) can run as much as $20,000. As in jewelry, value has somewhat less to do with the commodity price of gold than with workmanship or artistry. And the difficult process of wrapping silk thread with gold leaf and then weaving it into a loomed fabric is expensive.
Some fashion experts attribute the gold fetish to the millennium (though silver and white otherwise seem to be de rigueur colors this year); others say it has to do with market-made fortunes in these fat times. "Everything that can be made more expensive is," says Caroline Rennolds Milbank, a fashion historian in New York. "Vicuna instead of cashmere. Crocodile instead of lizard."
Lit up?
To exclusive menswear designer Bijan, of Fifth Avenue in New York and Rodeo Drive in Beverly Hills, gold clothes are in bad taste. He thinks that metal in men's attire ought to be limited to neckties. "Gold-striped suit, God forbid! If the lights come up, you'll look like a Christmas tree," he says. Wait: Didn't Bijan himself offer gold pinstripes in the 1970s? Yes, he says, but: "In year 2000 America, I'm not for it."
Some customers are. They are snapping up a Robert Stewart Inc. limited-edition tie of woven silk and 18-karat-gold thread with images of Faberge eggs from the Forbes collection, at $260. Shoppers are also buying ties from Paris shirt maker Charvet with 24-karat (i.e., pure gold) threads, at $185, and a gold-embroidered cummerbund and bow-tie set from Stefano Ricci that retails for $795. Brioni has a gold, (real) silver and black-silk millennium fireworks vest for $2,000.
Gold "is very hot," says Robert Goldman, president of Robert Stewart, the New York tie maker. "We're appealing to the high-powered banker or businessman who likes to dress up." Kurt Braeutigam, a 55-year-old financial adviser in Cypress, Texas, is such a man. Planning for New Year's Eve, he plunked down $9,000 for a Stefano Ricci black-silk tuxedo – and a bow tie and cummerbund set flecked with gold thread. "It's not decadent to wear gold for the millennium," he say.
In recent months, customers of Neiman Marcus have ordered 10 custom-made Brioni suits and eight tuxedos accented in gold, ranging in price from $13,500 to $16,000. Some orders came from women shopping for men. All are in the same fabric Schwartz has.
This fall, the Belgian textile company Scabal offered to Brioni and select tailors around the world 150 yards of fabric in three shades of wool (charcoal, black and navy) with a delicate gold pinstripe. Demand was so great that Scabal is producing 300 more yards. Its wholesale price for enough fabric to make a suit runs to "thousands of dollars," says Scabal's US distributor, Neal Boyarsky. William Fioravanti, a celebrity tailor in New York, says he has made one suit out of the Scabal fabric and expects to make more. "I get no resistance to the price among people who like it," he says.
Bob Cuillo, a New York auto dealer, Broadway producer, restaurateur and "clothes-aholic," saw the fabric at Fioravanti's shop and immediately ordered double-breasted gold threads in navy. "It was unique and rare," Cuillo says of the $10,000 suit, the most expensive in his wardrobe. He says he has worn it three or four times to business meetings and dinners. "It's not a flamboyant suit. I look great in blue."
For all the cost, wearers of gold insist it doesn't gain much attention – not like a gold lame dress, anyway, of fabric interwoven with metallic threads generally coated with a gold-colored compound. "There's a subtle elegance to it," says Schwartz, the New York clothier, who owns a gray suit of the Scabal fabric. He says he likes subtle. "I'm going to feel weird if people come up and say, 'Ooh lah lah, vavoom.'"
Still, he says, "when you're wearing it and feel it on your body, wow." Gold comes and goes in the rag trade – and it has since ancient times. It was only in the 19th century that Western men gave up pink-silk breeches, frock coats adorned with gilded lace, wigs, feathered hats and high-heeled shoes with jeweled buckles in favor of the sober wool uniforms they wear today. But the peacock remains near the surface. Charvet, of the Parisian shirts, produced gold-yarn vests in the 1920s that are now in museums.
Liberace wore gold; so, they say, did Frank Sinatra on occasion. A decade ago, Brioni bought a lot of gold-pinstriped fabric that was heavy, shiny and, worst of all, melted when ironed. Thanks to improved technology, the gold it is using this year doesn't melt; the wool fabric is finer and lighter and less showy.
Without question, all this is elitist. "There is a snob appeal," says Michael Barlerin, a corporate director in New York for the World Gold Council.
The man wearing it takes pleasure in knowing that "no one else in the room will have a $16,000 gold suit," says Dervis, the fashion historian.
Susan Carey