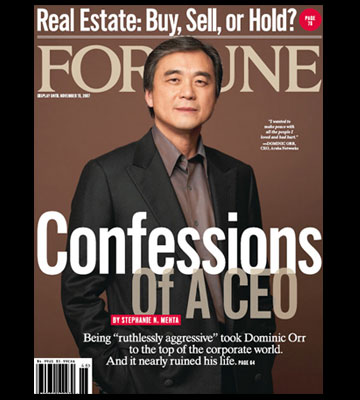 FORTUNE
If The Suit Fits…
Despite the recession, this company's high-end customers don't blink at spending thousands of dollars on custom sport jackets and business suits.
Fortune Small Business Web exclusive
Friday, November 22, 2002
By Felix Doligosa Jr.
Investing $3,000 to $15,000 in a suit may not be an option for every businessman, but clients at David Lance New York aren't typical. Since the Sept. 11 attacks triggered the lingering recession, many clients at the high-end, men's custom clothing company have renewed their commitment to pursuing their career goals by investing more in their professional wardrobes, says designer David Lance Schwartz, 42. "Our average client, even if he takes a hit, it's a relative hit," says Schwartz. "People realize life is shorter and they want to get what they want. How you look is just one piece of your arsenal, one of your tools."
But it's not just a renewed sense of the fragility of life that's powering the growth of businesses like Schwartz's. His sales have increased by 45since 1999, when many dot-coms folded, taking their ping-pong tables and casual dress codes with them. With more traditional workplace dressing on the rise for the past few years, opportunities for designers of custom menswear seem to be growing. Indeed, a 2002 study by the Men's Apparel Alliance found that among more than 200 companies with over $500 million in revenue, 56require male employees to wear suits and ties. The same study found that seven in 10 senior executives agree that employees who wear suits are more likely to be noticed. But even if companies weren't leaning toward stricter dress codes, says Schwartz, clients with high-profile corporate careers would always seek designs like his. "The way you're dressed matters," says Schwartz. "What you look like helps determine the way someone views you. When the economy has taken a turn the way it has and there are more people available to fill certain jobs, you need every edge you can get."
Schwartz didn't seem like a likely proponent of traditional menswear when he won best dressed at Grant High School in California's San Fernando Valley. At the time, he was usually decked out in trendy clothes inspired by films like Saturday Night Fever. But that changed after he found work as a model for a tuxedo company and later attended the American Institute of Tailoring in Irvine. By 1985, Schwartz had started a custom tailoring business with two partners in Orange County. To win his first clients, he knocked on every door in a seven-story office building in town to collect business cards from potential customers. Hundreds of phone calls later, the tailor booked his first two appointments and soon found himself running a fast-growing business.
Realizing there was a large market for his product in New York City, Schwartz opened another location in New York City in 1991, commuting between New York and California about every 10 days. His travel schedule became so demanding that in 1995, he decided to part ways with his California partners and relocate to Manhattan. After renovating a rat-infested apartment in upper Manhattan into a showroom, he started David Lance New York. Although dot-coms were booming by the late nineties, and many offices were going casual, that didn't stop his clients from showing up. Given that many are top executives at large companies, they weren't exactly clamoring to adopt slacker style. When they wanted to dress in a more relaxed way, they simply opted for his sport jackets, which average $2,700 to $4,700 and come in fabrics like cashmere and silk and linen. Indeed, though David Lance New York's suit business went down by about 30from 1999 through 2001, his sport-jacket sales rose by about 300as he ramped up production. With only five to seven employees at any given time, "we're small enough to spin on the dime," says Schwartz. Gradually, he built up a roster of 350 clients, who now spend an average of $20,000 to $100,000 a year on clothing at David Lance New York.
Because most of the company's customers come through word-of-mouth referrals, Schwartz has never had to invest much money in marketing. He builds loyalty by offering a level of personalized service that few companies can match. On hot summer afternoon, for instance, he personally drove across Manhattan to fix the collar of a black cashmere polo shirt for one client, then rushed back to the office to fax another customer a chart telling him what jacket or pants he should wear for different occasions. There's nothing casual about Schwartz's approach and that's how his clients like it. "I love them," says five-year client David Findel, CEO of Worldwide Financial Resources Inc. in New Jersey. "They satisfy all your clothing needs, and they give you advice on what to wear." For executives who have made it to the top of corporate America, dressing well isn't just a requirement — it's one of the rewards. "They get what they get because they can," says Schwartz.