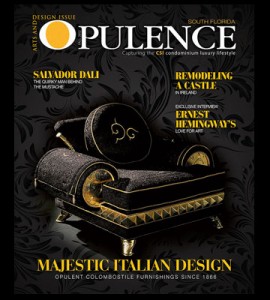 Opulance
David Lance New York, a distinguished men's custom clothier
HOLIDAY 2001
From the boardroom to Bali, the best-dressed man always makes a powerful statement. David Schwartz should know; he's one of them. The first thing one will notice when meeting David Schwartz is that he is impeccably dressed, with an unpretentious elegance. His exquisite attire and flawless detail package a look that radiates confidence, success and quiet authority. David has mastered the art of dressing. As founder and owner of David Lance New York, it's no wonder that he also dresses some of the world's most dynamic, affluent men, guaranteeing that they will always look and feel their absolute best.
The art of dressing is what David Lance New York (DLNY) is all about. DLNY is much more than a custom-made suit or stellar new shirt to add to one's closet-DLNY is a complete wardrobe service. David means what he says when telling a client, "I'll create your entire wardrobe with exquisite ensembles that encompass your individual image, personality, lifestyle, comfort level and personal taste. I'll make clothing you will love."
David and Marc want their clients to know that they understand what it takes to look and feel your personal best.
Becoming a client with DLNY begins with a personal meeting. Before a single measurement is taken, a one-on-one interview occurs, allowing David to intricately learn about the man he's dressing. Any and all detail is used when creating a client's new wardrobe; from his client's profession, to where he travels, to what he likes most about his current attire. The client is then consulted on fabric selections and styles that will flatter his physique, while providing absolute comfort. Every feature is focused upon from which lapel will enhance the wearer's shape, to which colors and patterns will best complement his skin tone. When the session is over, clients feel relaxed and are assured that all their personal needs will be met, and their wildest expectations, surpassed.
To help cater to the detail of DLNY's growing clientele, David brought in a successful image consultant, Marc Streisand, just over two years ago. After meeting through a mutual friend, the two found a shared vision of the art of dressing. David and Marc want their clients to know that they understand what it takes to look and feel your personal best. When getting to know a client, they will openly provide advice, ranging from clothing care and maintenance or where to place a monogram, to how the epitome of excellence in men's dressing can be achieved.
Once a gentleman's personal and physical framework has been meticulously scrutinized, DLNY can do what it does best-design and create a complete wardrobe, custom fit in every detail, that reflects and enhances the wearer's personal image and best accommodates his needs. "One person needs three overcoats," says David, "while another needs three tuxedoes. We figure it out." DLNY clientele are successful men usually earning annual salaries over $1 million. They are accomplished, busy men who require their clothier to provide an all-inclusive service with diligent attention to their every need. This comprehensive "soup to nuts" approach to custom clothing is David's forte, and is the heart of DLNY.
DLNY can do what it does best-design and create a complete wardrobe, custom fit in every detail…
Of course, the art of dressing must include the client's knowledge of how to put it together once he has it at home -what tie complements which shirts, what to wear to certain functions or on a special occasion. David comfortably says, "Relax. I'll take care of you." And, he does.
Every client receives a handy leather-bound dress chart, and each piece of clothing in the wardrobe is assigned a number, which is sewn into the garment. The dress chart lists the numbered clothing combinations that suggest how to wear the various ensembles. That means that each and every piece, from coats to neck wear, will have a number allowing the client to pull it all together easily and to his best advantage. In addition, the chart shows the date a garment was added to the client's wardrobe, which months of the year each garment may be worn, and the appropriate occasion in which to wear it-social, business, formal or casual. The binder also contains photographs of each garment to make dressing simple and enjoyable.
And if that's not enough, David and Marc will visit a client's home to help arrange, organize and even create closet space-a service unique to DLNY. They have assisted clients with many aspects of their wardrobe, from rebuilding closet space to organizing a client's closet to better utilize space. When a client really gets hooked, David Lance will even offer rolling racks to place in his closet for his expanding wardrobe.
As one would expect, DLNY employs skilled master tailors and handwork artisans to work the fabrics into the most extraordinary hand-made custom garments attainable today. Only the finest cloths and materials in the world are used. Suits are crafted with luxurious fabrics ranging from Super 120s to Super 200s that are imported from England, Italy and Spain. According to David, "The yarns used for my fabrics are so fine to work with, most suit makers won't go near them." His unique shirting fabrics include splendid Swiss, Egyptian and Sea Island cottons. DLNY offers an incredible neckwear selection, hand-made shoes by J.M. Westin and exclusive accessories. Every detail of a gentleman's wardrobe is thoughtfully provided.
Clothing bearing the DLNY label guarantees consummate personal service with an intimate focus on the individual. David Lance New York will visit their client's home or office, or the client may prefer a visit to the showroom on East 76th Street-a sophisticated, yet comfortable and intimate retreat, with cherry wood walls and silver-foil ceilings.
A DLNY suit will cost between $2,900 and $15,000 (there is a minimum order of two). Shirts range between $250 and $625 (with a minimum order of six). Clients may wish to select a pair of handmade J.M. Westin shoes from France, the only line they offer, at a cost of $350 to $2,500.
David Schwartz shares his learned art of dressing by providing the ultimate clothing experience through David Lance New York. Located at 42 East 76th Street in Manhattan, DLNY services clients by appointment only. Tel: 212-879-8686
By Jill Lemcke