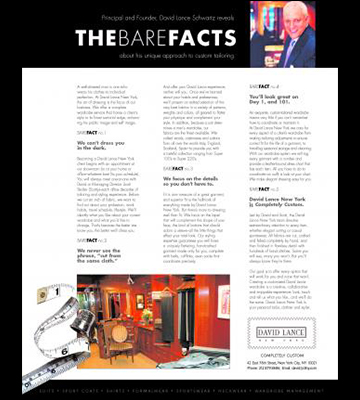 Elite Traveler
THE BARE FACTS… Principal and Founder, David Lance Schwartz reveals about his unique approach to custom tailoring.
A well-dressed man is one who wears his clothes to individual perfection. At David Lance New York, the art of dressing is the focus of our business. We offer a complete wardrobe service that hones a client's style to its finest sartorial edge, enhancing his public image and self image.
BARE FACT no.1
We can't dress you in the dark. Becoming a David Lance New York client begins with an appointment at our showroom (or at your home or office–whatever best fits your schedule). You will always meet one-on-one with David or Managing Director Scott Skoller (Scotty)–each offers decades of tailoring and styling experience. Before we cut an inch of fabric, we want to find out about your profession, work habits, travel schedule, lifestyle. We'll identify what you like about your current wardrobe and what you'd like to change. That's because the better we know you, the better we'll dress you.
BARE FACT no.2
We never use the phrase, "cut from the same cloth." And after your David Lance experience, neither will you. Once we've learned about your habits and preferences, we'll present an edited selection of the very best fabrics in a variety of patterns, weights and colors, all geared to flatter your physique and complement your style. In addition, because a suit determines a man's wardrobe, our fabrics are the finest available. We collect wools, cashmeres and cottons from all over the world–Italy, England, Scotland, Spain–to provide you with a tasteful collection ranging from Super 100's to Super 220's.
BARE FACT no.3
We focus on the details so you don't have to. Fit is one measure of a great garment, and superior fit is the hallmark of everything made by David Lance New York. But there's more to dressing well than fit. We focus on the lapel that will complement the shape of your face, the kind of buttons that should adorn a sleeve–all the little things that affect your total look. Our styling expertise guarantees you will have a uniquely flattering, handcrafted garment made only for you, complete with belts, cufflinks, even socks that
coordinate precisely.
BARE FACT no.4
You'll look great on Day 1, and 101. An exquisite, custom-tailored wardrobe means very little if you can't remember how to coordinate or maintain it. At David Lance New York we care for every aspect of a client's wardrobe from making tailoring adjustments to ensure correct fit for the life of a garment, to handling seasonal storage and cleaning. With our wardrobe system we will tag every garment with a number and provide a leather-bound dress chart that lists each item. All you have to do to coordinate an outfit is look at your chart. We make elegant dressing easy for you.
BARE FACT no.5
David Lance New York is Completely Custom. Led by David and Scott, the David Lance New York team devotes extraordinary attention to every item, whether elegant suiting or casual sportswear. All fabrics are cut, crafted and felled completely by hand, and then finished in flawless detail with hundreds of hand stitches. Some you will see, many you won't. But you'll always know they're there. Our goal is to offer every option that will work for you and none that won't. Creating a customized David Lance wardrobe is a creative, collaborative and enjoyable experience: look, touch and tell us what you like…and we'll do the same. David Lance New York is your personal tailor, clothier and stylist.