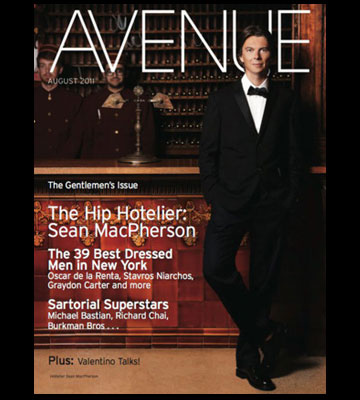 AVENUE
Style Maker – Well Suited
March 2002
Most students aspired to be remembered as Most Likely to Succeed, or perhaps Most Popular. But David Lance Schwartz says he is proud of his High School legacy:
Gucci-est Man on Campus.
It has proven a fitting epithet for the man who built a hugely successful custom-clothing business by mastering the nuances of style. CEO's, Supreme Court justices, and superstar athletes rely on him to create their best-dressed look.
Schwartz, owner of David Lance New York, is not a tailor, but a connoisseur. His 76th Street showroom stocks the finest, most expensive imported fabrics and handmade accessories. After personally taking a customer's measurements, he has the suits and shirts crafted by a network of specialty tailors. His business card reads A GENTLEMAN'S CLOTHIER.
But it's best to think of him as a match-maker. "That's what we're known for, " says Schwartz, 41. " Customers know that everything they're getting will be coordinated for them."
His sales niche is his dress-by-number system: Every item of a client's clothing is tagged with a digit and matched with other to create a personal style. The combinations are computerized and stored in a notebook. All a customer need do is flip to the right page to see that suit 27 goes with shirt 4, 19,45 and 52, and that each shirt works with particular ties. (If the number isn't enough of a hint, every tie pattern is scanned and laser -printed for easy reference.) The book even lists the season and occasions – business day, weekend social – when the outfit should be worn, as well as the proper color for belts and shoes. Some of Schwartz's clients have bought more than 300 suits. Ninety percent of his patrons are repeat business, men for whom Schwartz has created their entire wardrobe.
"What David delivers is this extra level of service," says Eric Kessler, a media executive and devoted client. "He takes the time to know you as an individual, to understand your lifestyle and tastes." Some customers trust him so implicitly they'll phone in an order for a dozen new shirts or sport coats. If Schwartz spies a new cloth he thinks someone would like, he may appear at a client's office. Indeed, many of Schwartz's customers love him because they hate to shop.
That doesn't mean they don't have extravagant tastes. David Lance suits start at $2,800 and usually range from $3,250 to $4,500. Shirts run $325 to $650. A $14,000 suit made with gold-threaded fabric was featured in the Wall Street Journal. "I'm not for everybody," Schwartz smiles. " Mercedes doesn't make Volkswagens."
By Victor Wishna